Devotees of dwarka, after taking bath in to gomti ganga, strides chhapanpi sidi, ented into swarg dwar & take darshans of Dwarkadhish & look at tomb & dhwajaji & engross into deep thinking & experience immense sense of exclamatory questions.
The Dwaja of Dwarka Temple is 52 yards. The reason for this is that during in the dwarka of krishna era administration was run by 56 koti yadavs. Out of fifty six administrators balram, shrikrishna, pradhumna & anirudhji are in car nation of god. When these four are deducted from fifty six-koti balance fifty-two koti indicates residence of yadav administrators of fifty-two divisions. Which were present in dwarika of krishna era.
The temple has two doorways. The main doorway (south entrance) is known as "swarga Dwara" (Gate to Heaven). From where pilgrimage entre and (north entrance) is known as "Moksha Dwara" (Door to Salvation), from where pilgrims age exist. The outer side of this doorway has 56 steps that take to the Gomati River.
'Dwarkadish' refers to Lord Krishna, who is regarded as the "Lord of Dwarka".
In the main shrine, the central altar embraces the idol of Lord Dwarkadhish. the images is presented in the form of four-armed Vishnu (lord Krishna is the incarnation of Lord Vishnu) known as Trivikrama.
There are many Darshan and Sevas for Lord Dwaraknath. The dress is changed accordingly. The Darshan are Mangala, Shringar, Gval, Rajbhoj, Uthapan, Bhog, Sandhya Aarati, Shayan and Hindola.
Dwarka was built by Lord Vishwakarma on the order of Lord Krishna almost 3500 to 5000 years ago.According to the epic Mahabharata the city in due course was sumberged by the sea.
Dwarka was situated on the bank of the river Gomati.
History :
In 400 B. C. Vajranabha constructed an umbrella type monument in the memory of his forefather in East of Harimandir, which remains from merging into the sea.
In 100 B. C. According to Brahmi Script at the 1st floor of Harimandir, (less than 1/3 of today's Ladva mandir) It is believed that the renovation of this portion was done during this period of time.
In 200 A. D. Mahakshatriya Rudradama defeated Dwaraka's king Vasudev 2nd. After his death his wife Queen Dheeradevi called up his religious brother Pulumavi from python to get help, that time Rudradama compromised with them and married his daughter to king Pulumavi and accepted Vaishhnav religion. According to this historical story it is understood that worship of Krishna was popular at Dwarka. And due to this Vajranabha had constructed a chhattri and put Shree Krishna 's idol there.
In 800 A. D. Shreemad Adyaguru Shankaracharya renovated the Dwarkadhish temple and established the shrine of Adyashakti at fourth floor.
In 885 A. D. Shree Nrushinhaashrma (Who defected the Brihaspatguru in the debut of scriptures at Patan) The head of the Shreemad Jagatguru Shankaracharya pith renovated the temple.
From 900 to 950 A. D. According to Sankaliya in the 10th century there was a temple of Krishna.
In 1120 Minaldevi came to Dwarka and renovated the temple.
In 1156 There was a rumour that bhakta Bodana had taken the idol. At that time six males had gone for investigation. Odhavajee and Raghavajee, Son of Ramajeebhai, were among them who belonged to a mean family. Then there is a question that when Udaipur's Rana came to Dwarka, which Idol was there. So Gugalis thought that there is a false miracle spread to stop the Hindus from changing the religion.
In 1162 The king of Udaipur Rana Bhimsinhaji Offered 7000 veegha land to Guggali Pujari on Sunday, Kartak Vad 13 Samvat 1218 at Bank of river Gomati. It is assumed that they would have renovated the temple.
In 1241 when Mohammad shah attacked on Dwarka and broke the temple, Five Brahmin males fought with them and lost their lives and become martyr. Their names were Virajee Thakar, Nathu Thakar, Karasan Thakar, Valjee Thakar, and Devasee Thakar. Their shrines are near to the temple. The place is called 'Panch Peer'.
In 1250 Gurjer kavi Someshwara arranged a show of his play 'Ullagharau' in front of shree Dwarkadhish and offered him.
In 1345 there was a fight among Abotiya and meen family about Dhajajee (flag) of mandir at vasudevajee's deli and Chatrabhuja Narbheram lost his life. There were frequently occurs among them about the income of temple.
In 1560 vikram era Shree Vallabhacharayajee established the idol of Dwarkadhish at Ladva village, which was worshipped by Rukamini. At that time the idol supposed to be hidden in the step well called Savitri vav to protect them form the Muslim aggression. So when he saw the temple without idol he kept it there. It was there up to 1551. During the same period Turk Aziz attacked Dwarka the idol was taken to bet (the island)
In vikram Era 1613 Shree Vithalnathjee settled the disputes between Aboti & Gugali Brahmins by writing the copper script about their proportion in income from the temple.
In vikram Era 1616 Shankaracharya Shree Anirudhashrma had made the idol at Dungarpur and established them at another place in the same campus and renovated the temple. Mean while poet Isar Barot presented his volume " Hariras " to Dwarkadhish in 1540.
On 1786 the day of Akshay trivia on Thursday Shree Prakashanandjee had convinced Lakha Thakar to do yagya and renovated the temple. In addition to this Vagher king Map decreased the tax by ½ from Brahmins.
In 1861 Maharaja Khanderao renovated the temple and Bririshers repaired the summit of temple, which was broken during the fight with Vagher.
In 1903 Maharaja Gaikwad arranged to keep the golden pitcher on the summit of the temple and Shankaracharya renovated the temple in 1958.
Since 1960 Indian Government takes the care of the temple and renovates it genrally.
In 1965 Pakistan navy attacked to destroy the temple but failed. Now the temple is under complete security of black cat commandos.
Dwarka :
Among India's many different pilgrimage sites, particular ones are traditionally viewed as being especially holy for a variety of different mythological reasons. Preeminent among this listing are the Sapta Puri or Seven Sacred Cities and the four Dhamas or "Divine Abodes" The Seven Sacred Cities of Ayodhya, Mathura, Haridwar, Banaras, Kanchi, Ujjain and Dwarka are known as Mokshada, meaning 'Bestower of Liberation', and these sites are believed to confer liberation upon all persons who die within their boundaries. Dwarka, one of these seven sacred cities, is also listed among the four Divine Abodes. Dwarka's archaeological and historical background is shrouded in mystery. Mythologically, Dwarka - or Dvaravati as it is known in Sanskrit - was the site chosen by Garuda, the Divine Eagle, who brought Krishna here when he departed Mathura. Krishna founded the beautiful city and lived there the remaining years of his life until he died (according to legend) in 3102 BC. Scholars confer that the oldest parts of the Jagat mandir temple may only date to the reconstructions of the Gupta period in 413 A.D.
In the 7th century the sage Shankaracharya established four great monasteries in the cardinal directions of the country (Sringeri in the south, Puri in the east, Joshimath in the north, and Dwarka in the west). This emphasis on Dwarka further increased its importance as a pilgrimage destination. The original temples were destroyed during the 11th century by Muslim armies; frequently rebuilt, they continued to be attacked by the Muslims through the 15th century. The existing temple of Jagatmandir, also known as Sri Dwarkadish, dates from a 1730 rebuilding. It is 52 meters tall, and enshrines an idol called Sri Ranchhodrayji. The temple stands five storeys tall and is built on 72 pillars.
Besides being a Sapta Puri, a Dhama, and a Shankaracharya Mutt, Dwarka is also visited by large numbers of pilgrims because of its association with the great bhakti saint Mira Bai. One of India's most popular saints.
Deities :
There is a legend behind the idol of Lord Dwarkadhish in the temple. Badana, an old devotee, used to come daily from Dakor to Dwarka, in order to have a glimpse of the Lord Dwarkadhish. The Lord was really appeased with her and one day, he went along with Badana to Dakor, in the form of idol. The priests at Dwarka temple got angry at Badana, who took the idol according to them. The enraged priests chased Badana to get back the idol. Badana convinced the priests to leave the idol instead of gold.

The priests agreed upon the condition and to their surprise, the idol happened to be as light as one nose-ring. This miracle was done by the Lord himself, as he knew Badana had only a nose-ring to offer. However, the Lord didn't disappoint the priests and said that they would find a replica on a particular day. The priests could not resist their inquisitiveness and excavated the recommended site quite early. They found one yet to grow idol that is presently enshrined at Dwarka. Dwarka is one of four most holy pilgrimage sites (Chardham) of Hindu faith and is associated with Lord Krishna's life. it is considered to be one of the four principal holy places or chardham, it is also known as Mokshapuri. Located on the western most tip of Saurastra (Gujarat), this giant ornate shrine is one of the most imposing five-storied structures of Hindu architecture in Gujarat on the confluence of river Gomti and Arabian sea.
It is also known as Jagat Mandir, the five-storey structure of the Dwarkadhish Temple is built on seventy-two pillars. The temple spire is 78.3m high. From the temple dome waves an eighty-four foot long multicolored flag decorated with the symbols of the sun and moon. Lord Krishna's grandson, The sanctum of the temple is formed by the Jagat Mandir, or Nija Mandir, The Jagat Mandir has a tall tower and a hall of audience. There are two entrances to the temple. The main entrance (north entrance) is called "Moksha Dwara" (Door to Salvation). The south entrance is called "Swarga Dwara" (Gate to Heaven). Outside this doorway are 56 steps that leads to the Gomati River. Dwarka was submerged by the sea right after the death of Lord Krishna. Dwarka is sanctified as the place where Lord Vishnu slew the demon Shankhasura. The Puranas mention the 12 Jyotirlingas or columns of light representing Lord Shiva which manifested in different parts of the country. One of these is located in Dwarka and is known as the Nageshwar Mahadev. The Jagat Mandir or Nij Mandir forms the sanctum of the Dwarkadish temple and dates back to 2500 years. Jagat Mandir has its own hall of audience and a conical spire. The roof of the hall is supported by 60 columns and the main temple rises five storeys high. The spire rises to a height of 157 feet and is richly carved. In Puranic times, present-day Dwarka was known as Kushasthali or Dwaravati and enjoyed pride of place as the most important spot on the Saurashtra coast. It is said that Lord Krishna, after slaying Kansa, left his abode at Mathura and traveled with the entire Yadava community to the coast of Saurashtra where he founded a town and named it Swarnadwarika.
Many Hindus fervently believe that the temple was erected in one night by a supernatural agency, under Vajranabh's direction. Legend has it that when dying, Lord Krishna asked his devotees to leave Swarnadwarika so that the sea could engulf it. Until this day, Lord Krishna's city lies buried under the sea. Excavations have revealed that the sea swallowed five settlements, the present-day Dwarka being the sixth in line.
Swarga Dwar :
Temple :

It is believed that due to damage and destruction by the sea, Dwarka has submerged six times in the sea and the modern day Dwarka is the 7th such city to be built in the area. Vajranabh, Lord Krishna's successor and great grandson, is believed to have built the present temple Dwarkanath. The five-storeyed temple of Dwarkadhish or Ranchodji at Dwarka rises to a height of 43 m at the confluence of the river Gomati with the Arabian Sea. The inner temple is assign- able to the 13th century AD and the subsequent enlargement in the form of an assembly hall known, as Ladwa mandap and the awe-inspiring sikhara are datable to the 15th century. The temple is made of limestone and sand.

Within the enclosure of the Dwarkadhish temple complex shrines dedicated to Pradyumnaji, Devakiji, Purushottamji, Kuseshvar Mahadev and also the Sharda Peeth established by Adi Shankra Charya in the 9th century can be seen.
Dwaja Ji :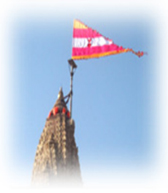 Appearance of Dhwajaji of Dwarkadhish is unique. It has got It's own characteristic. This appearance classified into three kinds:
| | | |
| --- | --- | --- |
| (1) | | Aadhi Bhoutik: |
| | | Aadhi means place and Bhautik means Panch tatva woven cloth of dhwaja. 52 yards of cloth is being used for dhwaja and fifty-two nos. of small flags are being joined around border of fifty-two yards of dhwaja in which each yard ties in own independent existence & identity. Each yard indicates entrance of Dwarka of Krishna era and it also symbolises flags on the residence of fifty-two officers of Dwarka. All these fifty-two yards combine to single dhwaja. These yards also symbolise fifty entrances as well as Swarg Dwar & Moksha Dwar of Dwarkadhish palace. Thus dhwaja of Dwarkadhish is combining Aadhi Bhoutik swaroop of entrances & residence of yadav officers. |
| | | |
| | | |
| (2) | | Adhyatmik: |
| | | Word dhwaja is quite auspicious & honorable word, which creates sense of respect in the mind of person who hears it. Other name of dhwaja is zanda (Flag), just as national flag is national symbol two which every Indian respects & consider his duty to respect & consider it's disrespect as disrespect to nation, like wise due respect is given to Dhwajaji. People respect its Adhyatmik swarup, and bow to dhwaja as mark of devotion & respect. |
| | | |
| (3) | | Aadhidaivik Swarup: |
| | | Just as tricolor Ashok Chakra national flag of India explain divine nature of flag like wise fifty-two yards. Dhwajaji of Dwarkadhish indicates it's divine nature. When each yard of cloth. But when it is tailored to dhwaja it incarnate divine nature and it becomes abode of Dwarkadhish swaroop till this divine in canted dhwaja is not hosted, god Dwarkadhish resides at the residence of its devotee and makes it's residence & it is family members auspicious. |
| | | |
Since body of lord krishna is meghshyam & glittering like rainbow the colour of dhwajaji is also saptarangi like rainbow. These red, green, yellow, blue, white, pink and saffron colours of dhwajaji have significance.
RED :
It is used for good occasions. It indicate bravery, It becomes source of inspiration to person who is getting one dhwaja flurrying cere in only.
GREEN :
It is symbol of peace & progress entire universe is spreaded by green colour in mountains, fields, garden in form of trees, leaves, crop etc. It has capacity to increase mental strength of human being. Ancient rushis were living in ashrams surrounded by greenery for that reason only.
YELLOW :
It is symbol of knowledge. It also symbolises integrity & prompt human being for more knowledge. Yellow pitamber of lord Vishnu symbolise his immense knowledge, lord Krishna & lord Ganpati also wear yellow pitamber. Both remove poverty of their devotee & glue them prosperity hence both are worshiped.
BLUE :
It is symbol of strength. Almighty has sparingly spreaded blue sky above us & blue sea beneath us bhagvan vishnu & goddess laxmi resides in sea bath in ganga & yamuna is considered most plous it further indicates inner strength of person who can cotrol his desire & organs effectively. Balramji was having this quality.
WHITE :
It symbolise, peace, piousness & cleanliness. It is formed by mixing seven colours. It indicates cleanliness of mental & physical state. It prompt mankind to get relieve from xiarrown thinking goddess of knowledge wears clean white cloths.
SAFFRON :
It symbolise bravery. When there is increase of dishonesty, mal practice & injustice, this color prompt to fight against it.PINK : It symbolises joyfulness. Example is rose flower, Rose flower remains between thorns it shows that mankind shoud keep their life delicate like rose but should also take thron like tough ness when occasion demand.
Thus all colours of dhwaja indicates different characteristics which are beneficial for better life.
Gomati Ghat :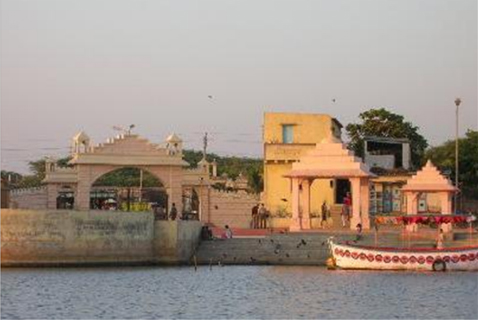 Gomati, the descended Ganges, meets the sea at Chakra-tirtha Ghat. To take bath where the Gomati meets the ocean is said to offer liberation. If you go out the back entrance of the Dwarkadish Temple, you can see the Gomati River. The temple is located almost at the spot where the Gomati meets the ocean.
The Samudra Narayana Temple (Sangam Narayana) is an imposing temple at the confluence of the Gomati and the sea. Panchanada Tirtha consists of five sweet-water wells surrounded by seawater. At Chakra Narayana, Lord Vishnu was manifested as a stone marked with a chakra on the seashore. The Gomatiji Temple has an image of the Gomati River in it, said to have been brought down from heaven by Vasistha Muni.